MEN ONLY
(Vol 64 No 7 Año 1999)
El negro es un color que favorece a Adele Stevens.
The black is a color that favors Adele Stevens.
MEN ONLY
(Vol 64 No 2 Año 1999)
En la sala, sola y desnuda es una perfecta vista para recrearnos.
In the room, alone and naked in a perfect view to us recreate.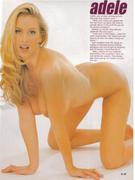 MAYFAIR
(Vol 34 No 13 Año 1999)
La temperatura en la cocina aumenta cuando están juntas Adele y Annie.
The temperature increases in the kitchen when are together Adele and Annie.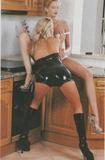 MAYFAIR
(Vol 34 No 9 Año 1999)
Apasionadas, Adele Stevens y Teresa May se complacen mutuamente en la escaleras.
Passionate, Adele Stevens and Teresa May are pleased each other in the stairs.
MAYFAIR
(Vol 34 No 3 Año 1999)
Tras un arduo día de trabajo, nada mejor que el autoerotismo.
After a hard day's work, nothing better than autoeroticism.