LOVEBIRDS
(No 201 Año 1999)
Adele Stevens y María Sheriff forman una pareja que arroja chispas.
Adele Stevens and Maria Sheriff are a couple that throws sparks.
CLUB CONFIDENTIAL
(Vol 8 No 6 Año 1999)
Para mantener su hermosa figura, Adele gusta hacer candentes rutinas gimnásticas.
To keep your beautiful figure, Adele like to do hot gymnastic routines.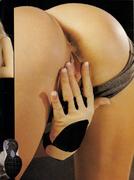 THE BEST OF CHERI
(Año 1999)
El apasionado encuentro de dos voluptuosas mujeres.
The passionate encounter between two voluptuous women.
CHERI
(No 12 Año 1999)
Una tarde perfecta para la pasión lésbica.
A perfect afternoon for lesbian passion.