TITBITS
(Vol. 1 No. 4 Año 1997)
Adele toma un baño al aire libre en una tarde soleada.
Adele takes a shower outdoors on a sunny afternoon.
RUSTLER
(No. 273 Año 1997)
María y Adele Stevens se entregan a los hervores de la pasión.
Maria and Adele Stevens is delivered at the boiling passion.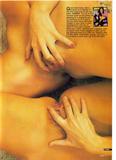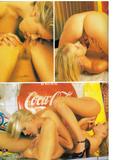 MAYFAIR
(Vol. 32 No. 6 Año 1997)
En esta publicación Adele utilizó por última vez el nombre de Rachel.
In this publication, Adele last used the name Rachel.