THE WORLD
(No 1 February Año 1994)
Adele nos permite conocerla de forma más íntima.
Adele lets us know her more intimately.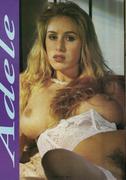 PHANTASY
(Julio-Agosto Año 1994)
Con la voluptuosidad de su cuerpo Adele hace volar nuestra fantasía.
With the voluptuousness of her body Adele makes them fly our fantasy.
MEN ONLY
(Vol. 59 No. 2 Año 1994)
Adele nos muestra que está lista para una noche de pasión.
Adele show us it is ready for a night of passion.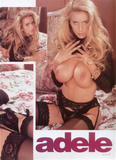 KNAVE
(Vol. 26 No. 5 Año 1994)
Con Adele las actividades domésticas puede ser muy candentes.
With Adele, the domestic activities can be very burning.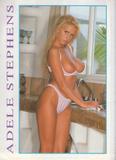 ELECTRIC BLUE
(Vol. 6 No. 5 Año 1994)
Además de hermosa, Adele es dominante y ardiente.
Addition to beautiful, Adele is dominant and fiery.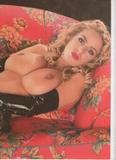 CLUB UK
(Vol 23 No. 6 Año 1994)
Como Dione, Adele no deja nada a la imaginación.
As Dione, Adele leaves nothing to the imagination.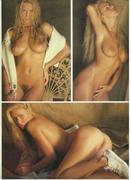 CHERI
(No. 11 Año 1994)
Adele se nos presenta como un sueño imposible.
Adele stands before us as an impossible dream.