MAYFAIR
(Vol. 30 No. 11 Año 1995)
Nada tan placentero como María Sheriff al desnudo en verano.
Nothing as pleasant as Maria Sheriff to the nude in summer.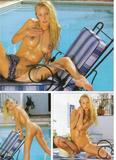 MAYFAIR
(Vol. 30 No. 7 Año 1995)
María Sheriff, Judy Jaeger y Helen Wilkinson nos muestran lo que pueden hacer tres chicas muy inquietas.
Maria Sheriff, Judy Jaeger and Helen Wilkinson show us what can make three very restless girls.
LEG SHOW
(March Año 1995)
Como Laura Jean, María luce como una chica mala.
As Laura Jean, Maria appears as a bad girl.
GALLERY
(Vol. 23 No. 4 Año 1995)
Con el nombre de Maia, María muestra su esencia felina.
With the name of Maia, Mary shows her feline essence.
ESCORT
(Vol. 15 No. 10 Año 1995)
Con una atractiva lencería roja, María es acariciada por el sol de verano.
With an attractive red linen, Maria is caressed by the summer sun.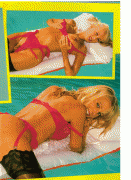 DERRIERE
(No. 17 Año 1995)
Atrevida y ardiente, María Sheriff nos muestra sus encantos más intimos.
Daring and randy, Maria Sheriff shows us her more intimate charms.